Xander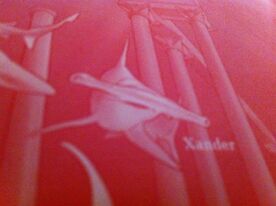 Gender: Male
Species: Scalloped Hammerhead
Status: Dead
Fate: Killed by Mosasaurs
Xander was a scalloped hammerhead who served in Auzy Auzy Shiver. He was Lochlan's third in line. He was thought to have participated in the Battle of Riptide, any specific actions are unknown. He was considered to be a minor character, Later in book 5 Enemy of Oceans we see Xander working for Tydal in Indi Shiver. He was the leader of Indi mariners. Soon Tydal and Xander receive a message via Eugene speedmeister from Gray requesting help in the battle of the Spine. So Xander and about 500 mariners go to help Gray in battle, and Xanders appearence turned the tide on Grimkahn and Hokuu to win the battle. In the final book The Last Emprex Xander still plays the role as Indi's mariner leader. The last battle of book 6 featured Xander. After yelling the same words he yelled at the battle of the spine Xander entered the fight. Sadly after fighting a long while it is stated that Xander was killed and eaten by a mosasaur.
Ad blocker interference detected!
Wikia is a free-to-use site that makes money from advertising. We have a modified experience for viewers using ad blockers

Wikia is not accessible if you've made further modifications. Remove the custom ad blocker rule(s) and the page will load as expected.