The Last Emprex 
is the sixth, and final, book in the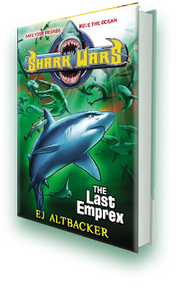 Shark Wars
series by
E.J Altbacker
. It was released on July 2, 2013, and
Gray
is on the cover, sharks around him, with two clouds of blood coming from some of them. 
Gray is practicing shar-kata with Takiza, with Leilani watching. Takiza tells Gray that he brought Leilani just to show off, which Gray was actually doing, but does not admit it. Meanwhile, Kendra, Silversun, and Grinder are fighting against Grimkahn and Hokuu. Grinder has to bring the injured sharks to Fathomir, so Kendra and Silversun take the diamondhead, risking their lives. Hokuu watches the battle, fantazising about now that he is using the same strategy as Gray's team, he will win, and also about when he will take Grimkahn's place as leader of Sixth Shiver.
Ad blocker interference detected!
Wikia is a free-to-use site that makes money from advertising. We have a modified experience for viewers using ad blockers

Wikia is not accessible if you've made further modifications. Remove the custom ad blocker rule(s) and the page will load as expected.