Palink is a quick witted blue shark who leads Hideg shiver. Because of this he obviously has many traits that the sharks around him like. He is a smart and fast swimming shark with razor sharp and good fighting skills.
Appearances                                       
Edit
Palink first appears in the Kingdom of the Deep when Gray and Barkley are sent to settle a territory dispute between Hideg shiver and Icingholme shiver, which is led by Tik-tun and made up of orcas. After a hard struggle and a near war, Gray and Barkley finnaly solve the dispute, causing Palink to be friends with Gray, Barkley and Tik-tun. He doesn't do much in book five but in book six, The Last Emprex, he sends many sharks to war and since he has such a big shiver that helps Riptide United defeat the prehistore armada.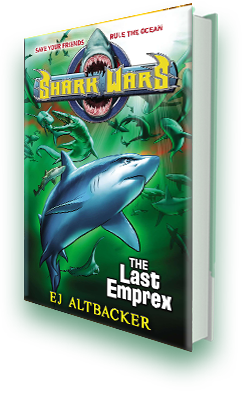 Palink is described as tough and smart
 He has a large army
 He is brave
 He is able to understand and realise his mistakes
 He is sly
 He is a fast swimmer
 He will use everything to win
Palink leads Hideg shiver
He is a blue shark
He has many tough guards
He lives in the Arktik
He is used to the cold
He trys to be happy for as long as possible
He changes to different moods and back easily
He goes into battle against attacking or evil shivers
Conclusion
Edit
Palink is a sly, smart and fast swimming blue shark. He is the leader of Hideg shiver, a powerful group of sharks who's homewaters are situated in the Artik close to Glacier and Icingholme shiver. Palink is quick witted, agile and willing to go into war against evil sharks and shivers.
Ad blocker interference detected!
Wikia is a free-to-use site that makes money from advertising. We have a modified experience for viewers using ad blockers

Wikia is not accessible if you've made further modifications. Remove the custom ad blocker rule(s) and the page will load as expected.